On July 14 and 15, I visited the roller skating museum in Lincoln, Nebraska.
It is a relatively small museum housed at the headquarters of USA Roller Sports, but it is packed of amazing stuff. There are many miscellaneous old skates in display cases without labels) on the entryway. Signs lead through the Hall of Fame, a hallway whose walls are covered in plaques commemorating the famous.
The museum proper is just one room. It begins with a display case on the earliest roller skates, especially the ones with patents. It includes some sample skates, like this one: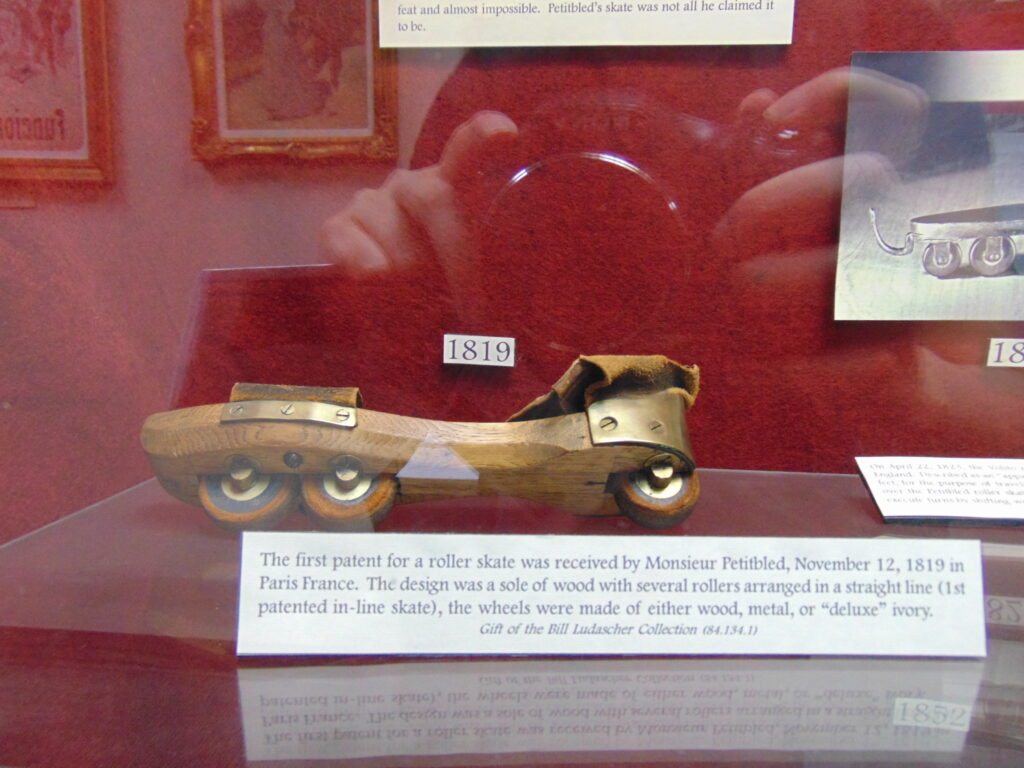 James Plimpton gets his very own display case:
It includes some of his prototypes and early skates, with the accompanying patents and descriptions.
I especially liked this one, which converts to an ice skate. I suspect it didn't work very well.
Moving on, there were lots of other interesting things in the museum, including several powered skates—one with an engine carried on the skater's back and another with a chainsaw motor mounted on the toe. There was even a selection of roller skates made for animals—bears, horses, birds, etc.
As you'd expect, there were also exhibits on more usual types of skating—dance skating, shows of various types, roller derby, hockey, and figure skating. Gloria Nord's traveling trunk seemed like a popular artifact, though I was more interested in the weird skates. The exhibit on figure skating included both singles (freestyle) and figures. Check out the picture in the upper right below: they used to put rosin on the floor to let roller skaters make tracings when they did their figures.
I took many more pictures and spent some time reading old magazines. More of that will make its way into blog posts in the future. They also have plenty of stuff that is not on display because they just don't have the space to put it out. It was a fun museum to visit.