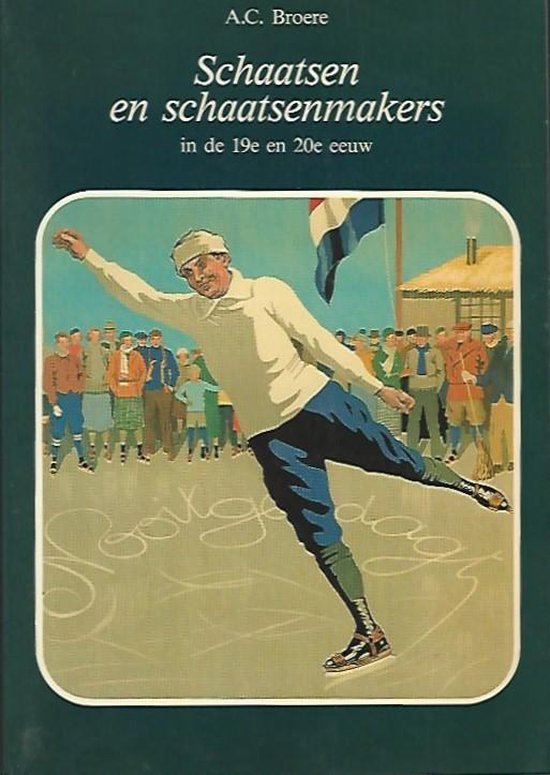 Today's book report is on Schaatsen en schaatsenmakers in de 19e en 20e eeuw [Skates and skatemakers in the 19th and 20th centuries] by A. C. Broere. I have the 1988 edition (dark blue cover); there's also a version with a white cover. I don't know what the difference is.
It's only 80 pages long but full of information, in Dutch but with the figure captions in both Dutch and English and an English summary at the end. Most of the figures are pictures of skates in Broere's collection.
Like virtually all skating books, it starts out with a little on bone skates. It moves pretty quickly through those and early metal-bladed skates, including the picture of St. Lydwina's accident and the one from Bodleian MS Douce 5.
By page 12, it's into the 19th century. That section focuses on three types of skate: Dutch curl skates, Frisian skates, and Dutch track skates. It also looks at figure versus speed skates and skates from England and Germany. At the end, there's a fascinating montage showing different ways of fastening skates to boots with straps in 1928.
My favorite chapter was the one on skate-making because it shows pictures of a skate being sharpened on a giant grinding wheel, a blade being forged, and other parts of the skate-making process.
The next chapter covers well-known skate-makers and skate-sellers. Broere argues that the between the latter part of the nineteenth century and the middle of the twentieth, skate-makers and -sellers went from being individual craftspeople (e.g., blacksmiths) to corporate factories and sport shops. The text concludes with some examples of new skate technology, like klapskates (new, that is, to the 1980s). It is followed by two appendices—catalogs of skate labels and makers' marks.
Overall, it's a great little book. You can buy a copy from bol.com as long as you have a shipping address in the Netherlands or Belgium.
Reference
A. C. Broere. Schaatsen en schaatsenmakers in de 19e en 20e eeuw. Franeker: Van Wijnen. 1988.